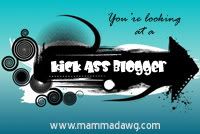 Gina at Pagan Sphinx is a Kick Ass Blogger, and she says that I'm one too! No-one's ever told me they thought I kick ass before. I have always been a very good girl-type, who behaved herself. This is so much better! Thanks, Gina!
Here's the rules for the Kick Ass Blogger Award:
LOVE ON 'EM
Choose 5 bloggers that you feel are "Kick Ass Bloggers"

Let 'em know in your post or via email, twitter or blog comments that they've received an award

Share the love and link back to both the person who awarded you and back to www.mammadawg.com
Hop on back to the

Kick Ass Blogger Club HQ

to sign Mr. Linky then pass it on!
And here's my picks. This was hard, because there are so many kick-ass bloggers in my circle. It was made easier by know that some, like Fran, have already got the award:
Grace, at Jesus Wept, because Jesus surely does, at what she's been through because of her previous place of employment, and her struggle to find a new church home.
Derek, at 89Days, because I know what he's been doing for the last couple of years, and I know what changes he's made, and we did the struggling together.
Mimi, at Wounded Bird, because, among other things, she has a kick-ass fleur-de-lys tattoo on her ankle.
Sherry, at After the Bridge, because I love the poetry – hers, when she posts some, and other people's when she posts that, and while I've had mornings that FELT like Multiple Tweetie Mornings before, I didn't know what to call 'em.
And Dennis, at Psychology, Dogs, Politics and Wine, because of the Jazz, the elephants, the homesickness, and Pinkie and the Brain.